Basic Business Law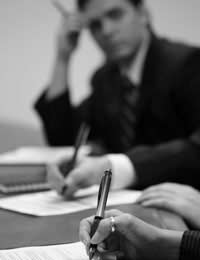 As a small business owner it's your responsibility to ensure your business is operating on the right side of the law. Below is an overview of the main areas of legislation that all small businesses should be aware of.
Business Type
The first thing you must do choose your business format. You have basically three choices: sole trader, partnership or limited company. The format you choose will have an impact on the taxes your business pays, and also the regulations that apply to your business.
If you're not sure if you need to register as a self-employed person, take a look at the leaflet IR56 from HM Customs and Revenue (HMRC). If you're still not sure, then call the Revenue helpline on: 08459 15 45 15. Do this as soon as you start trading or you'll get a fine of £100 if you haven't registered within three months of starting your self-employment.
Health and Safety
No matter what type of business you run, you must ensure that you comply with all the health and safety regulations that apply to your business type. Many of these regulations will relate to your premises, but even people working from home who are still your employees must be assessed for any dangers. The Health and Safety Executive (HSE) have overall responsibility in this area. You can read introductory information on their website at: www.hse.gov.uk/business/getting-started.htm. You can also download the HSE's introduction to health and safety also from their website at: www.hse.gov.uk/pubns/indg259.pdf. Also available from the HSE bookshop [www.hsebooks.co.uk] is the Essential of Health and Safety at Work that is well worth a read.
Tax, National Insurance and VAT
The type of business you are running, or intend to start has a large bearing on how much tax you have to pay. HMRC have some basic advice on their website you can access at: www.hmrc.gov.uk/startingup/taxgate.htm.
If you are not going to trade as a sole trader, but intend to start a limited company or a partnership, your tax affairs are a little more complicated. You will also have to pay Corporation Tax. You can read 'A General Guide to Corporation Tax Self Assessment' at: www.hmrc.gov.uk/pdfs/ctsabk4.pdf. This explains all your need to know.
And if you intend to employ people you also have to ensure you comply with all the employment law that exists. You should download the employer's starter pack from the HMRC website: www.hmrc.gov.uk/employers/starter_pack.htm.
If your business will supply goods or services amounting to more than £60,000 in any 12 month period you will have to register and pay VAT. If you're unsure if you need to register, read 'Should I Be Registered for VAT?' at: http://tinyurl.com/kkwwk.
Waste Management
With environmental issues high on the business agenda, it's important you are aware of your responsibilities in this area. You can see an overview of the regulations that may affect your business on the NetRegs website at: www.netregs.gov.uk/netregs. Free independent advice can also be obtained from Envirowise [www.envirowise.gov.uk]. It's also a good idea to read 'Waste Management: The Duty of Care - A Code of Practice' at: http://tinyurl.com/j46al. If you need information or advice on wider environmental issues you can contact the Environment Agency at: www.environment-agency.gov.uk.
Trading Standards
All goods that are sold in the UK must comply with trading standards regulations. This simply means that the goods can perform the task they are design to do, and are safe to use. You can read a handy guide on the current trading standards that are in force called 'Trade Descriptions - A Guide for Business' on the Trading Standards website at: www.tradingstandards.gov.uk/business/business.cfm.
Employing People
You not only have to comply with tax laws regarding employing people, you also have a raft of employment law to contend with as well. You must ensure your business operates a policy that doesn't discriminate against disabled people. More information on these laws in on the Disabled Rights Commission website: www.drc-gb.org. If you will be employing migrant workers you must ensure they can legally work in the UK. You can read more about employing overseas workers on the Home Office website: www.ind.homeoffice.gov.uk/workingintheu.
E-commerce and Distance Selling
Most businesses now have a presence on the Internet that sells either goods or services. There are regulations that govern this type of selling. You can see an overview of the Distance Selling Regulations on the Office of Fair Trading website: http://tinyurl.com/a86et. Further information can also be obtained on the BERR website: www.berr.gov.uk/consumers/buying-selling/distance-selling/index.html.
YOUR SMALL BUSINESS IS FOR SALE.
This website is for sale [more info].
You might also like...