Basic Marketing Techniques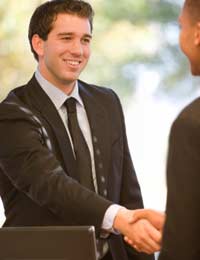 Marketing is often seen as something of a black art by many small business owners. The reality is that anyone can master the skills they need to become a successful marketer. The key to developing good marketing skills is to know whom you are aiming your promotional messages at, and what the best channel is to use so that your messages reach their intended audience. Marketing is important, as without it your business can't survive in the long term.
Publicity Pays
The mix of marketing techniques you can use to promote your business will largely be determined by the business you are in and the type of customers you usually sell to. Look closely at how you can profile your customers to understand what kind of marketing messages they are open to receive, but more importantly, what kind of messages will irritate them. It's important to match the marketing message you want to send to your customers with the channel you use.
One excellent way you can research how your business currently approaches its marketing is to perform a SWOT analysis of this component of your business. SWOT (Strengths, Weaknesses, Opportunities, Threats) enables you to see instantly see how your business is performing, and which areas of your promotional activity need to be addressed. You can read more about SWOT analysis on the BizHelp website: http://tinyurl.com/rgbxc.
Online Marketing
The Internet has completely changed how businesses interact with their customers. The Internet has also over the last few years come into its own as a marketing channel that your business can exploit. The low cost of some online promotion makes it ideally suited for the smaller business.
One ideal and cost effective means of promoting your business online is to use a newsletter. Sending newsletters via email can mean they are highly targeted, which should consequently mean a better return on your investment. There are many companies that will help you set-up your newsletter.
Bear these points in mind if you do want to use newsletters for promotion:
Segment your emails
The newsletters you send out via email should be targeted to specific groups of your customers. Don't simply send the same message to everyone. Think about how you can divide your customer base and send them each highly specific messages. You'll get a much better return.
Avoid animation
It is very tempting to make your email newsletters multimedia extravaganzas, but try and avoid animation as it can be distracting and not all of your customers will be able to see it anyway as they may have graphics switched off.
Ask their permission
It's a legal requirement that you must ask you customers if they are happy to receive your email newsletters before you send them.
Test your messages
You'd be surprised at the number of newsletters that are sent out that contain spelling mistakes or links that don't work. Thoroughly check your newsletter before you send it out.
Your Marketing Plan
Not all marketing channels are the same. The marketing techniques you use should be matched to the kind of message you want to convey to your customers. Use the checklist below to help you design your own marketing plan:
Direct Mail
Often derided as ineffective, direct mail can in fact be highly efficient as messages are directed as specific groups of your customers. If your business sells specialist products or services, direct mail is an excellent marketing channel to use.
Press advertising
Promotion via the press can be expensive so it's important that you do your homework and ensure you are spending your marketing budget with the right publications. All magazines should be able to give you details of their readership. Look for magazines whose readers are a close match to your business's ideal customer.
Trade shows
If your business operates in a specialised market trade shows can be an ideal means of networking with other businesses in your sector and reaching new customers. Plan your visit to an exhibition or your stand if you decide to attend yourself as an exhibitor as trade shows can be expensive. Remember to look closely at your cost to ensure a good return on your investment.
Website
Every business should have a website. With more consumers using the Internet as their first port of call when they want to buy any goods or services make sure your site stands out from the crowd and can be found by all of the major search engines.
You might also like...