Better Project Management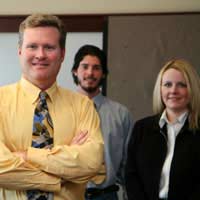 Developing your business can entail a number of distinct projects from installing new IT systems to entering a new market. In a small business in particular what is important is that the resources committed to a project are used efficiently, and that the project delivers what you intended on time and on budget. It's very easy for a project to quickly run out of control.
The key to good project management is planning. It's imperative that you take time to plan each stage of the project you're about to embark upon. Use the checklist below to help you develop a plan that will ensure your next project progresses smoothly to completion:
Define your projectIt is important that you have a clear reason and a stated goal for your project. Think through your reasons for mounting the project and give yourself a goal that will illustrate if the project has been successfully completed.
Create a testing metricEven with a clearly stated goal for your project, try and develop a way that you can test if the project has delivered what you expected. This is a quick and easy way to instantly see if your project has been successful.
How to achieve the project's goalsYou now have to look at the details of your project. How are you going to put your plans into practical action? Will you need any outside help? What does this cost? If there are various ways in which your project could progress, weigh up the pros and cons of each before making your decision.
Set a timelineProjects without stated timeframes can quickly spiral out of control. You should not only set a date when the project should be completed, but also set times when the project's progress will be evaluated. Evaluating your project at various stages is important as these stages can help you spot when your project is moving away from its goals that can in turn enable you to make corrections.
Set a budgetYour project's timeline goes hand-in-hand with its budget. Your planning stage will have given you rough estimates about what the project will cost. It's now time to look closely at accurate costs. You should also review your budget when you arrive at an evaluation stage in your project's timeline.
Gather your teamWho will actually put your project into action should be your next decision. Choose your team and also appoint a project leader. A project leader is important especially in large projects so that one person is reported to. They can then instantly see the progress of the project and take any action that is necessary. If you need outside help, now is the time to look for and appoint these professionals.
Start your projectOnce your project is off and running, the business plan you created will be your guide. Use the reports from your project's leader and your project plan to track how your project is progressing. Remember, you are aiming to get to the project's first evaluation period in the early days of the project's life. Try and focus on this stage of your project and not its end goals as this could dilute enthusiasm for the project, which could then stall.
Evaluate your projectOnce the project is complete you should now hold a post mortem on how the project actually performed. Use the metrics you developed in the planning stages to evaluate the projects success. Any mistakes you made are learning experiences that you can use to ensure your next project performs even better.
Garbage in, Garbage out
No matter how much planning you do for your next project, it's inevitable that you will run into problems along the way. What is important is that you spot the warning signs early that your project may be running into trouble. Some of the warning signs to be aware of include:
No progress seems to be being made at evaluation meetings.
Managers ask for a constant stream of additional resources.
Tasks are avoided or ignored by members of the project team.
Outside consultants don't turn up for meetings.
It's important to spot the early warning signs that your project could be running into trouble. Keeping a close eye on the progress of your project is essential before it becomes a drain on the resources of your business.
Good project management simply means careful planning. If you spend as much time as you need preparing your next project you can confident it will deliver its stated goals, on time and on budget.
You might also like...