Creating a Brand for Your Business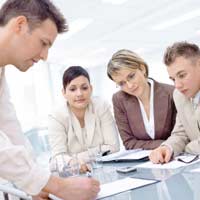 We all know what brands are and how powerful they can be in the marketplace, but at first glance a brand can seem like an intangible and unquantifiable entity. The reality is that a brand can be constructed once you know its component parts. A brand can:
Differentiate your business and products from the competitors.
Create demand in the marketplace from customers.
Increase the selling price of your business's goods or services.
Develops customers' loyalty.
Building your Brand
Any business can build a brand. First you have to understand that a brand is more than a logo. Your business's brand has to say something about your enterprise that will make consumers want to buy into your business. Perhaps your business has an iconic product that you can use as the basis of your brand. Sporting goods manufacturers use this technique highly effectively.
The goal of a brand is to make an emotional connection with your business's customers. The closer you can make that connection the more loyal your customers will be. Don't forget that 80 per cent of your business's revenue comes from 20 per cent of its customers. If you can get that 20 per cent of your customers to buy into your brand you will have loyal buyers for decades.
To build a brand for your business, follow these steps:
1: Define your business's strengths
The brand you'll develop for your business has to be supported by your enterprise. Look at your business's strengths. These will form an integral component of your new brand.
2: Profile your customers
Your brand will have to speak to your existing and future customers. The more you know about these people the better defined and therefore successful your band will be.
3: Research the competition
One key component of all successful brands is that they define the business they are attached to. Your brand should be unique and as a consequence characterises your business.
4: Branding mechanics
The next stage is to describe how your brand will be exposed. This means using graphics, colour, logos and even words to create a unique set of symbols that customers' will identify with your business's brand.
5: Branding belief
It's important that your entire business understand what you are trying to achieve with your new brand. Ensure your employees understand the core components of your brand, as they will communicate these to your business's customers and strategic partners.
6: Develop and test your brand
Some well-known brands in the marketplace haven't changed in decades, but most brands evolve over time. Always monitor how effective your brand is in the market by testing its key components regularly. As your market changes, so your brand may have to evolve as well.
Protect your Brand
Once you have created your brand it could become the most important component of your business. If you look at large companies like Coca Cola or Apple these companies ferociously protect their brands, as they know they are vitally important to the profitability of their respective businesses. Take the following steps to protect your business's new brand:
1: Intellectual property protection
The images, logo, name and tagline that are now part of your brand are intellectual property and should be protected. Use trademark protection to ensure no other business can copy your logo. It's a good idea to read the booklet Trademarks: Essential Reading that you can download from the UK Intellectual Property Office's website: www.ipo.gov.uk/tm/t-applying/t-should.htm.
2: Police your brand
You have to be proactive about protecting your brand. Regularly search the Internet for anything derogatory that is being said about your business and brand and rebuff these claims. Unchecked, this kind of publicity can damage your business's brand.
3: Test any changes
Over time it may be necessary to change or modify your business's branding. Take care to test every aspect of these changes, as you don't want to do damage to your existing brands potency in the marketplace. Only when you are sure the changes will enhance your existing brand should the changes be made.
Your business's brand can be its most precious asset. If you can develop a brand that becomes well known in the market it's important that you are not complacent. Police your brand to ensure it isn't damaged by your competition. Brands can be powerful marketing tools when handled properly.
You might also like...