Getting Paid on Time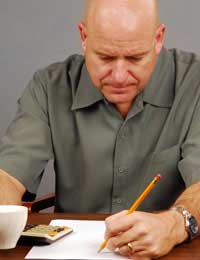 The latest research into the value of late payments in the UK makes for stark reading. Small businesses across the country are owed a staggering £18 billion. In the South East alone, small enterprises are owed on average £42,000. These are worrying statistics especially when you consider that small businesses state that a bad debt of just £20,000 could permanently put them out of business.
Credit Policy
Developing a robust credit policy for your business is now crucial. Credit referencing agencies are stating that on average, it's now taking over 60 days for invoices to be settled. The key to reducing this burden on your business is to develop a good credit refererence system that enables you to spot potentially damaging customers. A good credit reference system will enable your business to:
Spot new customers who have a credit history that could point to problems in the future.
Identify fraud. This is especially prevalent in businesses that trade on the Internet.
Check with existing customers for credit references before offering any credit yourself.
Take action to minimise your losses if a customer refuses or can't settle their bills.
Keep your cashflow under control as you can see who owes you money and when this should be paid.
Taking Action
The small business owner has a lot of demands on their time, but building in a set amount of time in your working day to check the status of outstanding invoices is very important to the long-term prosperity of your business. Use your accounting software to highlight when invoices become overdue and have a set procedure for dealing with these. You may find that in most cases a simple reminder is all that is needed to get your customer to settle their bill.
One handy service that all business can use is the Payment League Tables [www.paymentscorer.com] that track the payment performance of a wide range of industries. Regularly visiting this site will allow you to build up a picture of who the businesses are that have less than glowing payment histories. The site can also be used as a reference tool when a new customer approaches you. You can check their payment references and how their industry as a whole pays its suppliers.
Many small businesses don't use the electronic systems that are available to speed up payments. Amazingly many very small businesses still insist on being paid by cheque. Try and move all of your customers over to electronic payments. This is more secure, faster and allows you check your bank account online at any time of the day or night.
Charging Interest
The government recognised some time ago that smaller enterprises were suffering because of slow payments. In some very bad cases larger businesses were taking over three months to settle their bills. Legislation was passed (Late Payment of Commercial Debts (Interest) Act 1998) that entitles all businesses to charge a set amount of interest on any outstanding debts that are not paid by their agreed due date. You can see an overview of your rights on the Pay on Time website: http://tinyurl.com/yu9mn3. You can also download a handy guide to getting paid on time from the same website: www.payontime.co.uk/downloads/DTI_BPP_brochure.pdf.
There has been much debate as to whether the late payment legislation has helped small businesses at all. Many are reluctant to charge interest for fear of damaging the relationship they have with their customers. It is best to approach the charging of interest on late payments on a per case basis. You should have good credit checking procedures in place that will hopefully mean you don't have to use the legislation.
YOUR SMALL BUSINESS IS FOR SALE.
This website is for sale [more info].
You might also like...