Interview: Karl Mckeever, Brand Director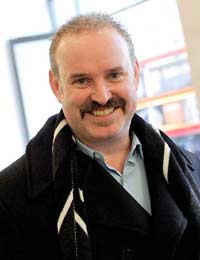 Karl McKeever, brand director of the UK's leading visual merchandising and brand delivery consultancy, Visual Thinking, has worked with top high-street retailers and international brands, including Marks & Spencer, John Lewis, Tesco and Timberland to name but a few.
Here, Karl explains how branding is such a powerful exercise tool when it comes to marketing, whilst offering small business owners strategic advice on how to construct a brand for a long-term successful future.
Q: Do you think we now know the DNA of branding? Can we now define what branding is and how businesses can construct their own?
 A: "I would say that we know the basic principles of branding, but not its DNA. The beauty of a brand is that it creates a zeitgeist when people enter into a store or engage with the brand through other sales channels. See for example the last Air microsite for their new album 'Pocket Symphony'. It has all of the defining principles of what Air are about (Paris high-rise chic, retro hi-fi and lounge), but the real achievement is that the brand exudes from every pour of the page, but not in any truly single definable way - that is what the best brands are all about - the way they can make the customer (which Air fans are in reality) feel, and ultimately know that they have arrived."
Q: How do you think branding has evolved over the last few years?
A: "Essentially in the best case scenarios, branding has simply evolved with the new channels available - not only adapting, but shaping the way that people align with, select and buy.
"Also it is more pervasive, now branding is not just the preserve of advertising and used on products, but is designed to be more closely tied in with the way that people live their lives, BA London Eye, Virgin companies etc. These demonstrate how extensions of the core brand/product and service seem boundless, (assuming they fit in with basic values of the brand), and can reach consumers far beyond their original calling."
Q: When you deconstruct a brand, what do you think makes it the powerful marketing tool that it is?
A: "Ultimately, the brands we choose say something about us and the way we want others to see us, whether it's your choice of ketchup or underwear. In a society that is increasingly status orientated and visually dominant in how we make decisions and orientate, brands are powerful and influential and have a potentially huge role in society building. Do the brands lead or follow what is happening in broader society?"
Q: What do you think are the key areas of branding that business must look after in order to protect their brand?
A: "It's intellectual property value and ultimately, what customers most readily associate with a like about it - after all, if they don't move with it, it isn't there. The three key components being: brand identity, brand delivery and brand protection. Identity equals the creation of a relevant, suitable and successful set of visual cues for the brand purpose to define, differentiate and promote the product (or service) to reach the target consumer, build perceptions and interrupt previous preferences.   
"Delivery is to fulfil the promise, build rapport and increase the likelihood of future purchasing. Protection occurs in many forms but is ultimately about stewardship - media coverage, customer service resolution, PR management (crisis and mistakes), and adoption by the community for which and in which the brand serves.
"The challenge being the broader appeal of the brand (with arguably more diverse, varied and greater consumer profiles and numbers i.e. Microsoft, BP, McDonalds etc.), the harder it is for these companies to keep getting it right. This is why big organisations can 'quickly come down' when a relatively minor issue becomes a gauntlet for the broader community disquiet i.e. BA and the employee wanting to wear a small crucifix."
Q: If a small business wanted to construct a brand for their enterprise, how would you advise they go about this?
A: "They need to define it with a brand building exercise - by deconstructing their business to see who they really are - and if necessary, shift this positioning to meet the requirements to meet business objectives.
"As part of this they should carefully consider the brand values central to the core of the business, the defining aspects of brand purpose/proposition, the intended delivery mechanisms and how they actually occur in the market place. Then detailed work is required to align the delivery mechanisms to the values and proposition should take place with the intention to create a cohesive and tangible reality which has distinctiveness, clarity, cohesion and consistency of delivery.
"It is important to note that this should not just affect the visual execution of the brand (a failure in delivery that many brands get wrong) but also requires work to address the attitudes, behaviours, language and overall aspects of 'style' by which the brand wishes consumers to understand it. Apple is one of the best examples of this where its store teams are in tune with the overall brand proposition in all aspects of how they look, behave, speak, interact and operate within the Apple environment."
You might also like...