Using Blogging in a Business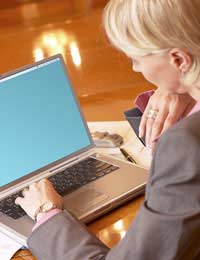 No business can have ignored the rapid growth of blogs. According to Technorati that tracks blogs around 60 million blogs are in existence, with 75,000 new ones created daily. Starting out as little more than online diaries they are now business tools that large corporations use to communicate with their customers and partners. But blogs can be equally useful for even the smallest of enterprises.
Choose your Platform
If you quickly search the Internet you will discover that you are spoilt for choice when it comes to the platform you use for a blog. The leading blog platforms you have to choose from include:
Wordpress
Movable Type
Blogger
LiveJournal
Xanga
TypePad
All of these applications offer basically the same functions and can get your business's blog live on the Internet in minutes. However, many of these systems are designed for personal blogging and not for business purposes. If you do intend to start a business blog, then look closely at Wordpress and TypePad as they have more flexibility and lend themselves more easily to business blogging.
What to Talk About
As an owner/manager you are unlikely to have the time to blog, so you will inevitably delegate this to a member of your staff. Choose that person carefully and ensure they understand what they can, and more importantly what they can't talk about in their blog entries. Try and infuse your blog entries with as much inside information as you can. Help customers with your blog entries. Point them to products or services that complement your business's products. Try and talk about the wider subject or sector that your business trades within. This insight is invaluable to your customers who will thank you for being so candid with their loyalty.
Caution when Blogging
If you do intend to set up a blog for your business, bear these points in mind:
Have a clear policy about who can place entries on your business's blog.
Ensure that no copyrighted material is used on a blog entry unless permission had been gained to use it.
Security regarding sensitive commercial information within your businesses must be policed. You don't want this information appearing on your blog.
Blog posting that are of a sexual nature, that could involve deformation of character and are based on rumour and not fact should be avoided.
All blog posts should be saved just in case you need this information as evidence in any court case bought against your business.
Blogging Checklist
Before you start your own business blog, bear these points in mind:
1: Have you planned your blog carefully?It's important that your blog is in tune with the rest of your business. Your blog should not be simply a bolt-on to your enterprise but part of your marketing and customer services departments.
2: Design your blogMost blog platforms allow you to design how your blog looks. This is usually done via a template you can download or buy from third party developers. Look for a design that reflects your business and also fits with the design of your brand and existing website if you have one.
3: Think about navigationYou'll be surprised at how quickly your blog fills with entries. Even after a few dozen entries have been published navigating the blog can become an issue. Try and make the navigation on your blog intuitive. Include a search function where you can.
4: Make your blog personalRemember, one of the reasons for starting your blog was to make a closer connection to your customers. Try and personalise your blog with a contact name of a real person in your business. Customers will then feel they are connected to your business and not merely an anonymous customer.
5: Expanding your blogIf you think your blog will become very popular ensure you have chosen a platform that can expand when you need it to. It's very inconvenient to switch blog platforms, so take your time making your choice.
6: Keep in touchTry and add an RSS newsfeed to your blog. This will enable your visitors to easily subscribe to your blog without having to visit it every day to see what is new. This makes your blog nice and easy to use, which is what every one of your customers wants.
According to research carried out by the internet service provider Fasthosts in their Blogging for Business survey nearly 50% of small businesses would use a blog to drive more traffic to their website, but few are actively developing this element of their business. With easy to use software and an audience ready and waiting to read your posts, you should make it a priority to look closely at how your business could benefit from starting a blog.
You might also like...