Types of Flexible Working to Use in Your Business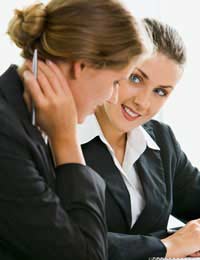 To ensure your business operates profitably the people you employ are an asset that needs to be properly managed. The working arrangements of your employees can be varied to suit your business's needs and the needs of your staff as the right to more flexible working conditions - at least for a select group of employees - is now enshrined in law.
Flexible Working Options
The type of business you run will largely determine what kind of flexible working you can offer to your employees. Below is an overview of the most common forms of flexible working that are used today:
Shift Working
Perhaps one of the most common forms of flexible working in the manufacturing sector, shift work is now also the mainstay of communications based business such as call centres and customer service departments.
Part-time Working
Increasingly, many of your employees may want to move to more part-time working. This flexibility can enable your business to modify working patterns to better suit your business.
Flexi-time
If your business can be flexible enough to allow its employees to set their own working hours as long as they meet their contracted hours each week or month, flexi-time can be an added bonus to employees. Ensure you have systems to track each employees hours to ensure the system isn't being abused.
Job Sharing
Often an employee will want to move to part-time work, but your business needs someone full-time in the position. Job sharing enable your business to hire another person to effectively do half of the full-time job that is available.
Staggered Hours
In this type of flexible working the hours that your employees work are staggered over the working day. Employees start and finish working at different times of the day. If you run a business that operates 24 hours a day, staggered hours is an ideal flexible working alternative to shift work.
Zero Hours Contracts
If your business doesn't have a requirement for a full-time or part-time member of staff, but occasionally needs extra people at busy times, zero hours contracts are ideal. Your business simply hires the people it needs, when it needs them.
Employment Law
No matter what kind of flexible working you offer to your employees, they are still entitled under law to certain working conditions. These include the number of hours that they can work is governed by the Working Time Regulations. Generally speaking any worker over the age of 18 even if they are using flexible working arrangements is entitled to:
Work a maximum of 48 hours in any one week
A 20 minute break if they work more than 6 hours
One day off out of a seven day week
At least 4.8 weeks' holiday per year
More flexible working regimes may require that the employment conditions of your workforce are modified to reflect the type of work they are doing. It is important to take advice when drawing up contracts of employment for anyone working flexible hours to ensure their statutory rights are not infringed in any way.
The Working Time Regulations do have a number of exceptions that could apply to any of your workforce that opt for any form of flexible working. Workers can opt out of the maximum 48 hour working week, but this must be made in writing. Remember that any of your employees that are 17 years of age or below cannot opt out of the 48 hour maximum working week, even if they are working flexible hours.
In today's business sector the profitable management of human resources is one of the most important for the long-term sustainability of any enterprise. A mixture of flexible working arrangement is now commonplace as employers realise that more flexible working means a more productive workforce.
You might also like...