How to Complete Importing and Exporting Paperwork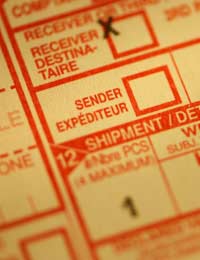 To ensure that your business operates its importing/exporting business efficiently, it's vitally important that you understand the paperwork that your enterprise must complete for every consignment that moves in and out of the UK. There is specific documentation for the movement of goods, but you should also ensure that your consignments include:
Packing Note
As your consignments travel to their destination they will be checked by a number of different organisations including port authorities and transshipment agents. The packing note ensure that your goods can move without undue delay.
Licenses
Some goods are controlled and will require a license to enter and/or leave certain countries. Carefully check with your agent or the BERR (Department for Business Enterprise & Regulatory Reform (formerly the DTI) as they can give you advice on any licenses you may need.
Tax and duty
To ensure your goods move to their destination quickly, always ensure you have the correct tax and duty paid in full. Goods that move in and out of the EU are taxable. Border control and customs officials will want to see documentary evidence that you have completed all the tax and duty paperwork correctly.
Invoice
An invoice should accompany all of your consignment and contain the basic information about the goods being moved. The invoice should include:
Your business' contact details
The weight of the goods in kilos
The country of origin of the goods
ECSI (Export Cargo Shipping Instruction)
If you intend to use an export agent or a freight forwarder, the ECSI is the form you use to give them instructions about your consignment. This form should include details about the destination of your goods, any special arrangements that are needed (refrigeration for instance) and the route to their destination.
Bill of Lading (B/L)
This document is used to give documentary evidence that you have a legal contract with the carrier of your goods. The B/L is usually used when consignments are moved by sea. This document shows that your goods have moved into the legal responsibility of the carrier while they are at sea. The B/L is usually completed by your freight forwarder or agent.
Sea/Air Waybill
Both these documents enables your goods to be quickly collected at their port of destination by the importer. They will need to prove their identity, but this form can save you time when moving large numbers of consignments overseas.
International trade forms
Importing or exporting goods within or outside of the EU will require your business to complete a set of standard documentation. All of your consignments must have the following documents in addition to your packing note, any licenses you may need and proof that any taxes or duty have been paid:
SSN (Standard Shipping Note)
The shipping note is the standard form that gives details of the consignment that it is attached to. Note that if your businesses is exporting hazardous goods, then the SSN must be replaced with the DGN (Dangerous Goods Note). You can see detailed instructions about how to complete the SSN on the SITPRO website: www.sitpro.org.uk/trade/standard.html.
SAD (Single Administrative Document)
If you are moving goods within the EU, all of your consignments must be accompanied by the SAD form that is also known as form C88. This form can be submitted manually, but its more common to use the CHIEF (Customs Handling of Imports and Exports Freight) electronic system. The SAD form must contain your goods' Commodity Code and the Customs Procedure Code.
NES (New Export System)
This is an electronic system that Customs & Excise use to track exports. The system generates export declarations that are attached to your consignments as they move from despatch to their final destination. Details on how the system works can be found in HMRC (HM Revenue & Customs) Notice 276.
Certificate of Origin
Businesses that move foodstuffs must provide a certificate of origin. If your goods are also of animal origin you will also need a valid veterinary certificate stamped by the Border Inspection Post before your goods will be allowed entry into any EU member state. If you will be moving livestock for instance, your consignments must have Part 1 of the CVED (Common Veterinary Entry Document) that indicates that your consignment has passed all heath checks.
International trade paperwork checklist
As you complete your consignment's documentation, bear these points in mind:
All documents must be legible. There is no international agreement that documents must be typed, but this is generally accepted as preferable. Handwritten forms can often become illegible.
Correction fluid must not be used in any circumstances. This could trigger an investigation into why the document(s) were amended that could delay the processing of your consignment(s).
Any alternations must be crossed through but not completely deleted. The changes should be stamped and signed by the person completing the documentation.
Faxes or photocopies may not be acceptable in some countries. Check with your agent before completing your documentation and dispatching your consignments.
YOUR SMALL BUSINESS IS FOR SALE.
This website is for sale [more info].
You might also like...