How Employee Engagement Can Boost Profits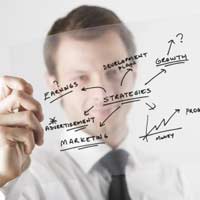 Employee engagement is an underused business strategy. A report from the consultants BlessingWhite states that less than a third of employees engage with their work and take a genuine interest in it. This suggests that two-thirds of employees are not working to their full potential.
Research on companies that have adopted employee engagement strategies backs this up. Two consultancy reports from the last decade make particularly telling points. One says that an engagement strategy can increase productivity by 40%. The other has evidence that such a strategy can enhance company performance by 47%.
With facts like these in mind, the business commentators Frank Schmidt and James Harter have listed the advantages of having an employee engagement strategy. These include a benefit no small business can ignore: employee engagement can boost profits.
Definition of Employee Engagement
Employee engagement is not another term for job satisfaction, staff empowerment or motivation. It includes elements of these but goes further than any of them. It concerns itself with the emotion an employee feels for his or her job.
When this emotion is positive, an employee is enthusiastic and committed. When it's neutral, an employee simply coasts through each working day. And when the feeling is negative, an employee is not only performing poorly, he or she can even hold a business back.
Background
Employee engagement is a fairly new idea. At the beginning of the 20th century, few people, if any, gave it any thought. But as industry changed, business people began to review the morale of their workers. Mass production techniques, for instance, made people bored and lethargic. IT developments created a business environment that moved so fast, workers lost confidence. Improving morale was necessary to help keep businesses on track.
The concept of job satisfaction grew from the idea of morale. But some business leaders realised that attempts to improve job satisfaction were failing. Many staff remained detached from their workplace roles. Even performance-related pay schemes weren't sufficient incentive to engage every employee's interest.
Competitive Edge
During the 1990s, another factor made employee morale, job satisfaction and motivation more important than ever. In an increasingly global environment, business leaders needed a competitive edge in order to succeed. Employees could provide this edge, but they could only do so if they believed wholeheartedly in their work.
Today, the same need for a competitive edge, and for employee engagement, is as vital as it's ever been. As a result, employee engagement is now an integral part of the operational development of some businesses. But the process requires a specific management strategy.
Strategy
The most important aspect of the strategy is communication. Managers and employees must have open and honest communication lines. On the one hand, managers must keep employees informed of business developments. They must give praise when it's due and highlight employee achievements. They must also regard employee shortcomings as opportunities to learn and develop.
Furthermore, managers must pay attention to employees by listening to their ideas and feedback. They must ask employees what they expect from their jobs, and they must mentor employees and give them every chance to reach their potential. What this amounts to is that managers need to respect employees, and make them feel as though they are doing a valuable job in the business.
Friendly and Open Business Culture
This approach must be part of a friendly and open business culture, in which managers act honestly and reasonably. They should also ensure that every employee understands and supports the values and ethics of the business. Most employees respond well to managers who act in this way, and they will start to think about why they're doing their jobs and what they hope to achieve.
Managers can support this with regular discussions about individual and team performances. A successful employee engagement strategy never leaves performance issues until annual appraisal meetings. In fact, performance and profit are relevant issues for everyone throughout the year.
Measuring the Results
Gallup, the consultancy company, has a tool for measuring the success of employee engagement in a business: known as the Q12 scale. The scale has 12 features, each of which applies to a certain business goal.
Ideally, if an employee engagement strategy works, the Q12 scale shows an engaged to non-engaged employee ratio of around 9:1. By comparison, Gallup says that an average business without a strategy has a ratio of around 2:1.
With a high employee engagement ratio, a business can achieve a competitive edge. And it's this edge that produces more sales and better profits.
Motivating Your Staff
Using incentive schemes can help to ensure that your staff stay motivated. Find out about the wide range of incentive and rewards that are available by reading our article
How To Motivate Your Staff
You might also like...