Skills and Training for Your Staff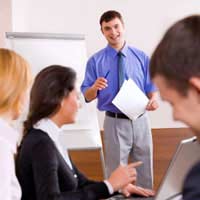 The people that work in your business are one of its more important assets. As such it's important that you continually develop and expand that asset to help your enterprise remain profitable over the long term. Developing a structured training programme for your workforce is one of the best investments any business can make.
Small businesses in particular can find it difficult to retain their staff, but an on-going training programme can keep your workforce not only engaged in their duties, but can also develop loyalty. With recent research indicating that over a quarter of all workers expect their employers to provide some form of training, now is the time to investigate the training options open to your business.
People power
Many small business owners see training as a drain on their time and resources when in fact a well-designed training program can enable a business to better compete in its market sector. Use the training checklist below to evaluate, design and then deliver the training your business needs:
1: Skills Audit
Before you can locate the training your employees need, you should find out what skills they already have and by extension, which skills they need to gain in order to develop as valued employees. Perform a skills audit. You may be surprised at how much training is actually needed.
2: Training Format
When you have identified the training your business needs, you can now think about what format the training should take. You can use in-house training, outsource your training or use more academic systems provided by your local college or university.
3: Training Supplier
It's important that the training you buy is from a reputable supplier. Locating a training provider should be approached as you would any other purchase for your business. Draw up a shortlist and investigate each potential supplier.
4: Employee Involvement
Many owner/managers make the mistake of imposing training on their workforce that they don't want or feel is inappropriate. Always consult your employees at every step of the training process. After all, it is your employees who are supposed to gain from the training you're providing. Make sure it's appropriate and delivered to maximise its effectiveness.
5: Measure Training Effectiveness
One area of training that is crucial to get right is how you will measure if the training you have provided has delivered on your expectations. Try and design your training so that you have a number of quantifiable metrics that will enable you to see how effective the training was and if all the objectives have been met.
6: Future Skills
Training should never be seen as a one-time only business exercise. Your staff, business and market sector evolves - so should the skills you have within your business. Set regular evaluation periods to ascertain if your business has the skills it needs to effectively compete in its market. Talk to your staff as they can keep you informed about the training they feel they need to continue to deliver their high productivity to your business.
Investment in people
Businesses that are serious about exploiting the human resources they have in their enterprises often strive for recognition under the Investors in People scheme. This is a recognised employee improvement system that is based on three key principles:
Plan
This develops a strategy that your business can use to improve its performance by enhancing the skills of its workforce.
Do
This is the practical application of the investment in people and delivers the training that is required.
Review
This component of the standard looks closely at how the training that was provided has improved the overall performance of your business.
More information about the Investment in People standard can be obtained from their website: www.investorsinpeople.co.uk, or by calling your local contact centre.
Help and Contacts
The training that your business could benefit from can be delivered in a wide-range of formats. Below are your main contact points to start making training work for your enterprise:
Learning and Skills Council
Retail Academy
Skill4
Skillsmart Retail
Reed Training
Sector Skills Development Agency
Learn Direct
Investing the skills that your workforce possesses is one of best ways in which you can develop your enterprise and ensure that it can effectively compete in its market sector. Training can be a highly effective business tool that all owner/managers should embrace.
You might also like...