Solving Employee Disputes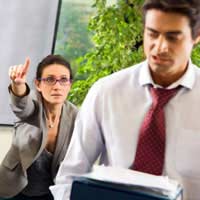 Every business with employees will at some point have to handle a dispute. Disputes can be over a wide-range of topics from pay to discrimination. It is important that you resolve any disputes within your business quickly as they can have an adverse impact on your enterprise's performance and long-term sustainability. You can download a report on how businesses handle conflict and disputes from the Chartered Institute of Personnel and Development website: http://tinyurl.com/3bfwxz.
Industrial Action
Disputes between a workforce and its employers can quickly get out of hand if it not handled effectively. Industrial action has a legal framework that all employers should be aware of. You can download a guide that covers the code of practice when dealing with disputes from the BERR website: www.berr.gov.uk/files/file18013.pdf.
One of the best ways of handling employee disputes is to prevent them from happening in the first place. As an employer you have a duty of care to each and every one of your employees whether they are full-time employees, or contractors you have hired. Use the checklist below to ensure you have a clear employee dispute policy:
Terms and Conditions
Any employee dispute that does occur must be handled in accordance with your stated employee conditions. Each of your employees should be aware of how disputes will be handled within your organisation. It is now the law (The Employment Act 2002 (Dispute Resolution) Regulations) to have in place within your business procedures to cover grievance, dismissal and disciplinary procedures.
Employee Representative
If you have more than 10 employees you will find it much easier to handle any employee disputes if you have one person to deal with. If your employees are happy with this arrangement, appointing an employee representative can be an efficient way of quickly resolving disputes.
Outside Help
Sometimes employee disputes simply can't be handled internally, which is where conciliation services can help. You can contact the ACAS helpline on 08457 47 47 47 for further information about the services they offer. If you cannot resolve your differences, then an employment tribunal may be your only cause of action. You can contact the Tribunals Service via their website: www.employmenttribunals.gov.uk.
Talk to Your Employees
Talk to your employees regularly to gauge their morale and also to gain an insight into what grievances they may have now that could develop into full disputes in the future. If you take time to understand what is important to your employees, you will vastly reduce the instances of employee disputes within your business. You can download a useful booklet on employee communication from the ACAS website: http://tinyurl.com/yosdkp.
Always Act Reasonably
In the day-to-day running of your business you make a number of key decisions, but have you thought how those decisions could affect the people working for you? Your employees are one of your business's most precious assets. It's important to factor in how your developing business will impact on them.
Unions and Employee Disputes
Your employees have the right to join any trade union they wish to. If a dispute does arise it's likely that a representative from the employees trade union will speak for them. Don't look at this move as a conflict, but a chance to resolve the issues quickly and amicably.
Maintaining good employee relations should be one of your top priorities as research has indicated that disputes can cost a business thousands of pounds in lost revenue. Don't ignore a problem when you become aware of it. Try and be fair with your employees and efficiently address any grievances they may have. If you can maintain a trusting relationship with your workforce, you'll find that disputes become a thing of the past.
You might also like...