Setting up a Network for your Business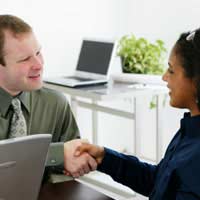 Installing a network in your business may at first glance seem like an extravagance that your simply don't need. But once you look closely at the advantages that a network can bring to your enterprise, you soon realise that a network can be a core asset for your business.
If you install a network in your business you will be able to:
Share peripherals between members of staff.
Share information instantly between computers.
Share a single Internet connection between all the computers in your business.
When you make the decision to install a network you have two choices:
Cable Networks
As their name suggests all the computers in your business are connected together with physical wires called Ethernet cables. This type of network is typically used to connect a number of computers to a single Internet connection. You will have to add a new piece of hardware called a router that acts as a switching box.
Wired networks have the following advantages:
The cables are reliable and robust.
High levels of security are possible over a wired network.
Very high performance across the network.
Wired networks have the following disadvantages:
Wires have to routed across your office.
Wired networks tend to cost more to install.
Adding more computers to a wired network can be time consuming.
Wired networks are ideal if your business doesn't have many computers to connect together. If you want to connect more than four computers and want to add other devices like printers and laptop computers, a wireless network makes more sense.
Wireless Networks
A wireless network uses radio waves to connect each computer together. No physical wires are required with this type of network. Each of the computers or peripherals you want to connect wirelessly together must be able to pick up the radio signal that is being transmitted by your modem for connection to the Internet, and the signals being broadcast by every other computer on the network when you want to share files and folders.
There are a number of wireless network standards that have been developed, but modern IT equipment is able to detect what kind of network is available and connect to it automatically. Each of the devices that you want to connect to your wireless network must be equipped with a wireless adapter. Desktop computers can be easily upgraded with a wireless access PCI card that anyone can install or you can use a USB dongle to give your computers wireless networking capability. Modern laptops bought over the last two years can connect to a wireless network instantly as they have the wireless adapter built in.
Wireless networks have the following advantages:
They don't require physical cables to be installed.
Any number of computers or peripherals can be added to the network.
Wireless networks are cheaper to install.
Wireless networks have the following disadvantages:
Walls and other obstacles can block the wireless signal that the network depends on.
Wireless networks can be less secure than their wired counterpart.
Wireless networks are not as fast as wired networks.
For the small business owner wireless networks are ideal as they can be set-up quickly and can be expanded as you add more computers and peripherals to your business. The speed of wireless networks has improved in leaps and bounds over the last few years and now offers a business the ability to seamlessly integrate all of their IT across a network. With hardware costs for wireless adapters continuing to fall, wireless networks are perfect for even the smallest of business and can deliver real tangible and commercial benefits to your enterprise.
Network Security
If you decide that a wired network is ideal for your business you have very few security worries. Unfortunately, this is far from the case with a wireless network.
It is vital that you ensure that the security measures available for wireless networks are switched on if you decide to install this kind of network in your business. The modem you use to connect wirelessly to the Internet will have WEP (Wired Equivalency Privacy) technology built in. Make sure that WEP is switched on. Also, your wireless network can use WPA (WIFI Protected Access) or Media Access Control (MAC) technology to protect the network.
All of these security technologies help you ensure your business's network is secure and can't be broken into by hackers or data intercepted as it moves from computer-to-computer. If you are in any doubt about the security set up on your wireless network seek expert advice as your business could suffer if you have a security incident.
You might also like...