Buy the Right Information Technology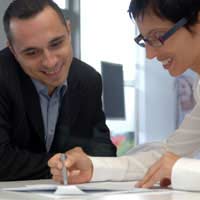 Today it is almost impossible to operate a successful business without some form of information technology (IT). Choosing the right IT for your business is a crucial decision not simply because of the cost implications of buying the wrong hardware and software, but how this could adversely impact on every part of your business that finds that it doesn't have the right tools it needs to operate profitably.
Technology Audit
Each piece of information technology that you choose for your business must be able to give a full return on its cost. It's important that you look closely at what IT your business actually needs before you begin to look for actual hardware and software to fulfil those needs. This is your technology audit that should include two basic components:
The full cost of ownership of the IT
A return on investment analysis
When you have identified the IT that your business needs you can now start to look for the best of breed in the technology sectors your audit has identified.
Business Computers
It's easy to become completely bewildered when you go shopping for computers for your business. The market seems awash with so many models that it's almost impossible to choose the right computer for your business. Use the checklist below to help you draw up a shortlist of computers to choose from. Use the checklist as the minimum specification for your business computer:
RAM (Random Access Memory)
Your computer should have at least 2MB (Megabytes) of RAM as this type of memory has a major impact on the performance of any computer. The rule is the more RAM the better.
Hard Drive
The storage capacity of the hard drive installed on your computer should be as high as possible as generally speaking you will always use the available memory much faster than you anticipated. Try and buy a computer with at least 500GB (Gigabytes) of memory.
Processor
Today the king of processors is the Intel Core Duo range. These processors now appear in just about every desktop and laptop computer. Look for computer with a processor that is rated at around 2GHz (Gigahertz) as this is fast enough to handle all basic office applications.
Screen
The CRT (Cathode Ray Tube) monitor has now been universally replaced by the flat panel LCD monitor. Most desktop computers come with a 19-inch monitor. Research has shown that productivity increases if the size of the monitor people use is also increased. So, if you can afford them, try and buy large LCD screens for your business's computers.
Perfect Peripherals
When specifying information technology for a business the computer is usually placed centre stage, but the peripherals that are also necessary can be overlooked. This is a mistake, as the IT you specify for your business should be done as a complete package. This not only saves you money, it also enables you to create a seamless IT set up that is efficient and reliable.
For small businesses the desktop laser printer is now affordable and can produce professional output. Look closely at the per-page cost of each printer you are looking at, as this will indicate its running costs. Consumables like toner can become very expensive so shop around and don't decide on a printer before you know the full cost of ownership.
Many businesses these days use what are called MFDs (Multifunction Devices). These are hybrid devices that consist of a laser printer with a scanner, copier and fax capability built in. If you're pushed for space these devices can be ideal, but again, look closely at their running costs.
Information Technology Checklist
Use the checklist below to help you choose the right IT for your business:
Perform an IT audit within your business
This audit should look at your existing IT infrastructure and identify areas where this needs to be improved.
Best of breed technology
Once you know the IT that you need to buy, start to research the market to identify the best suppliers of the hardware and software you need.
Total cost of ownership
before you buy ensure you know the total cost of ownership. Look at any maintenance or support costs. Consumable costs can be higher than you expect.
Return on investment
Every piece of IT within your business has to justify its existence by the return that it gives. Generate a return on investment report for each piece of IT you are thinking of buying to ensure it will pay for itself.
Try before you buy
If you are buying IT systems your business doesn't have experience with, try and see these systems in action in another business.

You might also like...