Fighting Isolation When Working at Home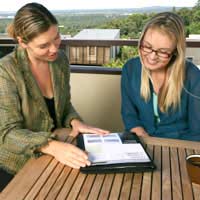 Running your business form home has many advantages such as avoiding the daily commute, but many home workers can become isolated as they could have very little contact with colleagues or customers. It's important to combat these feelings of isolation as they can lead to depression and anxiety that could have an adverse effect on your business.
Luckily, you are not powerless as there are a wide variety of techniques you can use to break the silence that include:
Meet your customers
Research has consistently shown that if you have a face-to-face meeting with your customers – especially new ones – you will win more of the contracts you are bidding for. Getting out of your home office for these meetings enables you to not only secure this work, it also gives you more human contact.
Business links
No business operates in isolation. Every region has its own chamber of commerce, or enterprise agency that will hold regular networking meetings, working breakfasts and more formal lectures. These events are the perfect opportunity to get out of your office and do some networking.
Trade shows and events
Every industry has its own trade shows. They can not only be a great way of sizing up the competition and seeing what's new in your business's sector, they are also a great way of breaking the isolation of working from a home office. Spend the day, or even two at these events to help you combat the isolation of working alone.
Technology contact
The Internet can provide a wonderful conduit to thousands of people just like you who are working alone in their home offices. Seek out blogs, websites, bulletin boards and forums where you can have a conversation with other like-minded people. You'll find that you can strike up friendships very quickly that could last for decades.
Exercise is good
It's impossible to run your business without some free time of your own. Having some downtime is essential to stay healthy and productive. Try and get out of your house during the day. Perhaps a trip to fetch your paper, but leave the car at home. If you like a morning coffee start to visit a coffee shop. You'll be surprised about the people you meet who may be in the same situation as you.
Get some education
One of the key areas that all business owners should strive to develop is their knowledge and skill set. Enrolling in a course at your local college or school will not only enable you to gain new skills, you'll also meet some new people into the bargain.
Taking care of children
Any business owner that has young children knows that they need a lot of attention. Build the journey to their play school or nursery into your day. You'll get out of the house and also have the chance to meet other parents that can give you that all important human interaction, but may also provide some business leads as well.
Work remotely
With the wide availability of broadband access in many city centres, its now possible to work just about anywhere including your local coffee emporium. If you're feeling disconnected from the rest of the world, why not take your notebook computer to your local coffee house and enjoy the company of other people while you work.
Get a partner
Most businesses at some point develop relationships with other businesses. Try and develop joint ventures that both your enterprises can participate in. Schedule meetings to thrash out the details.
Most people who start their own business have already experienced traditional office life with the noise and interactions that this includes. The isolation and silence that working from home can bring, could mean a major adjustment for you. But use the techniques above to reduce the symptoms and enjoy your new independence.
You might also like...