Interview With Alex Johnson, Journalist and Shedworker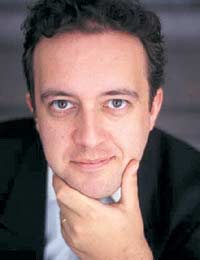 Alex Johnson is a journalist with extensive experience in designing, editing and publishing that Alex describes as a 'portfolio career'. He is also known as the UK's foremost shedworker. Having set-up his office in his garden shed and started his blog shedworking.co.uk, Alex also publishes Shed magazine that covers a range of issues linked to garden offices.
Q: Why shed working? How did your shed become the base for your office?
A: "Many people ask me this question and I would love to be able to say that I had an epiphany about shedworking, but the reality is that my then boss suggested it. One was Martin King who now champions shedworking from his post on the Independent's website.
"After about six months after we'd moved to our new home in St Albans from Madrid it was obvious we needed a space for me to work in. The first thought was to buy a bigger house with an extra room. To do that and stay in our area – which we wanted to do – would have cost in the region of £100,000. So my £5,000 garden office seemed a better bet and certainly better than working in the baby's bedroom which is what I had been doing for several months."
Q: If someone was planning a shed office, what key advice would you give them?
A: "Look around. There is a huge variety of options and designs out there with extras such as green roofs, mezzanine levels, and so on. Sort out the planning permission before you sign anything. Get the biggest one you can without damaging your garden as you probably need more space than you think."
Q: Bespoke or kit garden offices are now widely available. Do you really need one of these or can any old shed serve as a usable and comfortable office?
A: "You can certainly do it yourself, but you need to be reasonably handy - you want to make sure that it's waterproof and not going to fall down! It also needs to be insulated properly or you'll freeze in the winter and/or have vast electric bills. If you only plan to use it occasionally, then a more basic shed would work fine but it's worth going the extra mile, especially as it will add up to 5 per cent to the value of your property when you come to sell."
Q: When setting up a shed as a permanent working space, are there any legal issues to be aware of?
A: "Planning permission is the main one (and the use of your property as a business if it involves anything unusual) but also if you will be having clients/customers then you must get the right insurance."
Q: What are the main pitfalls of working in your shed that new 'shedders' should try and avoid?
"Don't let it fill up with overflow from the house (except around Christmas and birthday time as a good place to hide presents). Make sure you get out and see real people - social networking is great, but it's no replacement for a swift half or a walk into a town."
Q: How do you create a comfortable working environment in your shed?
A: "It's obviously an office, but I personalise it as much as possible with photos, an armchair, lots of books, my cider press, and so on. Nothing that hampers me from working, but things that make it feel more homely and add a bit of pizzazz to life."
You might also like...